Choong-Bok Lee Takes Cash Jackpot At The LG U+ Cup 3-Cushion Masters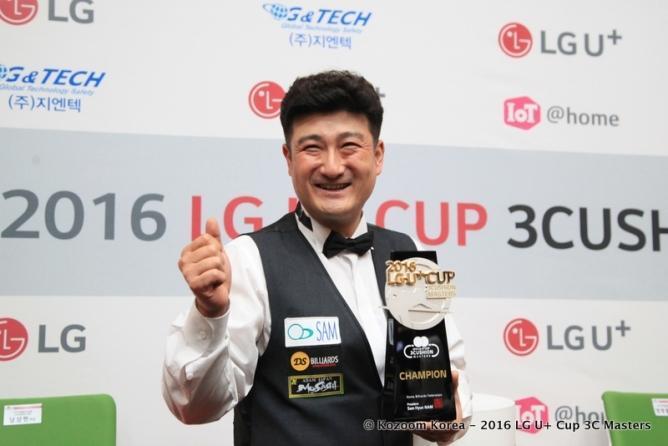 After a tough preliminary battle Choong-Bok Lee of Korea outplayed all particiapants to take 1st place and the largest cash payout of any 3-cushion tournament. The second LG U+ Cup 3-Cushion Masters invitational tournament was held November 8-11 in Seoul, Korea. Ten of South Korea's top billiard players were matched with six international stars in a combination round robin and knock-out event. Two things that make this now annual competition so interesting and different are: the matches are held in an open playing area in a shopping center, and the prize payout is the most lucrative of any competition in the 3-cushion international tournament schedule! With one day left three Koreans and one Vietnamese will meet in the knock-out phase to determine who takes home the $55,000 first prize.
The inaugural LG U+ Cup tournament was held in 2015 with a similar format and in the same shopping center venue. The winner was Dong-Koong Kang of Korea. With a large contingent of ten top performers the Koreans were again favored to reach the knock-out round and take home the trophy and first place prize of $55,000. The prize fund in 2015 was more than 80,000 Euros ($87,500.00). This year the total prize fund exceeds 90,000 Euros ($98,500.00) making the LG U+ Cup by far the largest payout of its kind and a testament to the commitment LG has made to the sport. We need more generous sponsors like LG!
Attending this year's installment were the current world champion and number one ranked player Torbjorn Blomdahl, multiple world champion and world cup winners Frederic Caudron and Dani Sanchez, and some of the best players from every world federation including Pedro Piedrabuena (CPB/USA), Sameh Sidhom (ACC/Egypt) and Quyet Chien Tran (ACBC/Vietnam.) The preliminary play divided the 16 players into four groups of four for round robin matches with only one player from each group advancing to the semi-final knockout matches.
The players from the home country of Korea and the invited challengers were grouped for the preliminary round robin matches as follows:
Group A: Frédéric Caudron (Belgium), Jung-Han Heo (Korea), Hyung-Kon Kim (Korea) and Jae-Guen Kim (Korea).
Group B: Torbjörn Blomdahl (Sweden), Dani Sánchez (Spain), Haeng-Jik Kim (Korea) and Choong-Bok Lee (Korea).
Group C: Quyet Chien Tran (Vietnam), Sameh Sidhom (Egypt), Myung-Woo Cho (Korea) and Pedro Piedrabuena (USA).
Group D: Dong-Koong Kang (Korea), Jae-Ho Cho (Korea), Sung-Won Choi (Korea) and Jin-Pyo Hong (Korea).
Day One - Upsets from the first carom
In the first day's play Choong-Bok Lee (left) upset Torbjorn Blomdahl in 15 innings. The win by Lee was a signal of things to come. Quyet Chien Tran (pictured above) thumped Pedro Piedarbuena 40-11 in 16... another clue as to where the tournament was heading. And Frederic Caudron had to settle for a 40-40 tie with Jae-Guen Kim. Former World Champion Sung-Won Choi topped Jae-Ho Cho with a 14 inning sparkler. Dani Sanchez lost his first game to Haeng-Jik Kim, while Sameh Sidhom lapped the young sensation Myung-Woo Cho 40-20. Last year's winner Dong-Koong Kang just missed a tie at 40-39 to hurt his chances to repeat. The tournament was off to a flying start and signaled that there would be fireworks at every table.
Day Two - The best are put to the test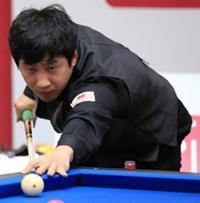 On the second day Jae-Guen Kim upped his chances to get through with a 20 inning win, knocking out Jung-Han Heo. Caudron had a tougher time in his win against Hyung-Kon Kim winning in a close 40-38/28 inning fight. Jae-Guen Kim with a better average was in the catbird seat in Group A.
In a similar battle Blomdahl managed to finish off his match against Haeng-Jik Kim, but in 23 innings his average may seal his fate. Leading Group B is Chong-Bok Lee who knocked Sanchez out of the event and sits on top at 2.105.
Vietnamese star Quyet Chien Tran is the quiet and consistent surprise so far with his second win (in 17-innings!) against Myung-Woo Cho. With a 2.424 average going into Day 3 he is almost unstoppable. Piedrabuena managed an exciting run of 15 but that may be too little too late for a chance to advance out of Group C.
The last Group D is all Korean. Here the former world champion Sung-Won Choi, last year's winner Dong-Koong Kang and former world cup winner Jae-Ho Cho were all surprised by the strong performance of the relatively unknown Jin-Pyo Hong (right). Hong beat both Kang and Cho. Which leaves the final match against Choi to determine if he can go all the way.
Day Three - The Shakeup Before The Finals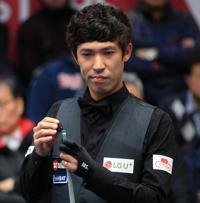 In Group A Frederic Caudron was desperate to win and win big. But he was crushed when Jung-Han Heo took off with a run of 15 and finished the match 40-14 in 13 innings. Nonetheless it was the remaining match in the group that proved decisive as Hyung-Kon Kim (left) vanquished Jae-Guen Kim and advanced with the best overall average.
Group B was tight and with a big one Blomdahl had a chance to overcome his early round loss. Choong-Bok Lee who beat Blomdahl could afford a loss (as long as it was not too many innngs.) And in fact did lose to Haeng-Jik Kim. The Blomdahl contest against Sanchez produced some real drama when Torbjorn ran 18. But then the caroms disappeared for seven innings in a row. When the match was over there were two innings too many and Lee emerged the group winner.
Group C yielded no surprises and the best performance of all 16 players. Quyet Chien Tran finished his third game in 17 innings to go undefeated and average 2.400. Pedro Piedrabuena managed a win against Myung-Woo Cho to salvage some respect in the event. But the first round loss to the group winner was the fatal blow that came early.
Group D was a tough all Korean group. And the surprising early round leader Jin-Pyo Hong marched to victory right up to the end with an undefeated performance.
Day Four - The Final Showdown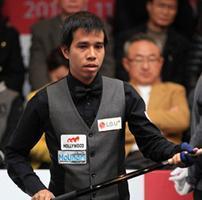 Coming out of the preliminary round only four players would compete for the crown. In the first semi-final match between Quyet Chien Tran of Vietnam and Hyung-Kon Kim of Korea the play was even up to the 12th point. Then Tran unleashed a run of 12 just before the break to take a lead he would never relinquish. The second half of the match was a tense defensive battle with both players missing more than they would have preferred. But Tran scored one more big run to reach 37 and it was over for Kim.
The second semi-final match between Choong-Bok Lee and Jin-Pyo Hong ended with Lee on top setting the stage for the final battle.
The final match was almost a runaway for Choong-Bok Lee who opened a sizable gap against Quyet Chien Tran at the break (20-6) after a run of 14. But Tran fought back to take the lead at 31-30. Then Lee made his final surge to reach 40-35 taking the match, the trophy and the $55,000 first place prize. Congratulations to Choong-Bok Lee the winner of the 2016 LG U+ Cup 3-Cushion Masters.