Eddy Merckx Wins Survival 3C Masters In Turkey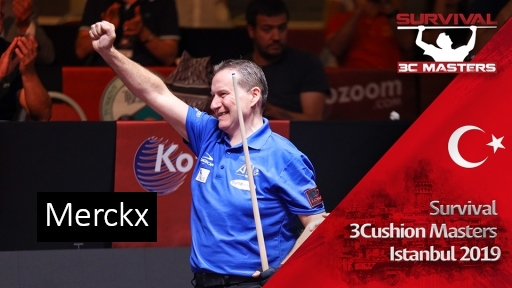 Eddy Merckx played an astonishing final match against fellow Belgian Roland Forthomme and Koreans Haeng-Jik Kim and Jae-Ho Cho to win the third Survival 3C Masters event of 2019. His final score of 132 was the highest ever scored in this event. Merckx took home the first place prize of $50,000 and further cemented his reputation as a fierce competitor and world-class 3-cushion talent.
When the UMB and Kozoom introduced the 3C Masters series last year it was none other than Eddy Merckx who won the inaugural event. Shortly after the competition format changed to the "Survival" format which has proven very popular in Korea. And now for the first time the tournament was held outside Korea... this time in Istanbul Turkey. (For the format and rules see our report click here.)
And whether in Korea, New York.or Turkey one of the hardest things to do in 3-cushion, is to beat Eddy Merckx. Nobody could do it at the Verhoeven in August 2019 and nobody could do it in the Istanbul Survival. And as is often the case once again the great former World Champion tapped into his remarkable talent to save his best play for the final day.
Eddy Merckx, after winning his group in the prelims and again in the quarter finals, held on for second in the semi-final group to advance. His felllow finalists in the four-man finale arrived after the qualification rounds, a second chance round, quarterfinals and semifinals. The three players who were left to battle it out with Merck were: Jae Ho Cho, Haeng Jik Kim and Roland Forthomme. Forthomme and Jae Ho Cho had been impressive in their semifinals, with consistent scoring and high averages. Haeng Jik Kim had shown his "survival" instincts by making crucial runs at just the right moments.
But we were about to enter a final match... and that is Eddy Merckx home turf. Almost instantly he knocked the wind out of his opponents sails with an early second-inning run of 12, quickly followed by an even more devastating run of 15 in the fifth. The insurmountable 100-point lead he built up meant he was never in danger after that. His three opponents knew where they stood and gamely battled for the silver and bronze. Once again it was Eddy Merckx who took the gold and $50,000 first prize.
Final standing in the Istanbul 3C Masters Survival (average and winnings.)
1st Eddy Merckx 3.133 - $50,000.
2nd Haeng Jik Kim 1.818 - $21,000
3rd Jae Ho Cho 1.533 - $18,000
4th Roland Forthomme 1.533 - $15,000
Congratulations to Eddy Merckx... once again!