Thanh Vu Back On Top At Goodays Open Handicap Event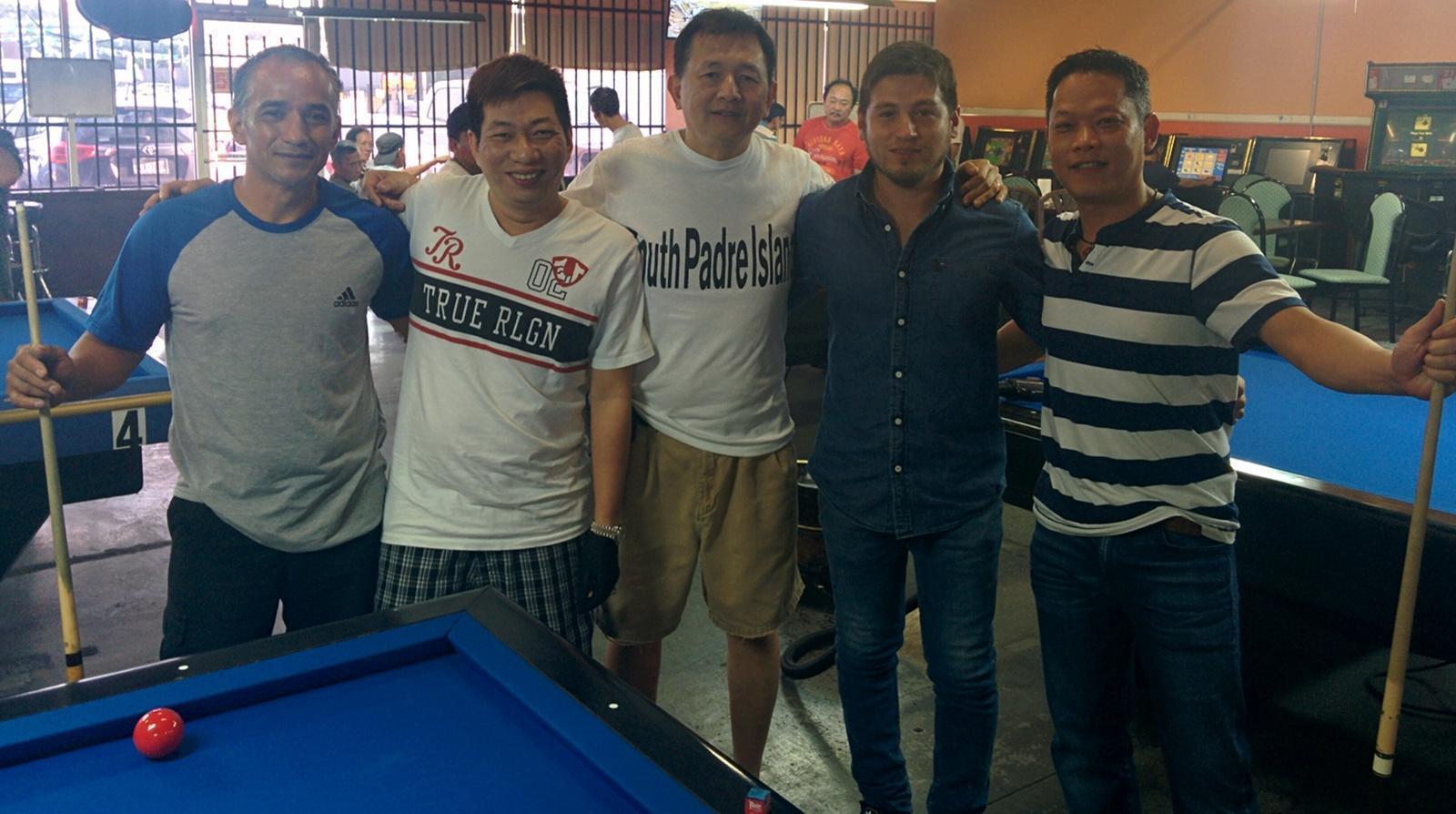 Thanh Vu, one of the best players in Houston, proved why as he topped the field in the open handicapped tournament held at Goodays Billiards on Saturday August 20. Pictured above are the finalists with the owner Tim Nguyen (L to R) Joel Rivera 3rd, Thanh Vu 1st, Tim, Miguel Candon 2nd and Vuong Nguyen 4th.
The Saturday one-day handicapped event is fast becoming a mainstay in the Houston 3-cushion billiard scene. And why not? The players in Houston are fairly matched, the events are well-run, food and drink is served, and the chance to win a little cash while enjoying a day of billiards is within the reach of all. In fact in the five events held so far this year we have had a different winner each time.
Prior Houston Events and Winners:
And the latest event this past Saturday at Goodays was another huge success. The field for the August 20 tournament consisted of 16 players divided into 4 flights of four to play round robin. The handicaps assigned followed the usual convention: C 12, C+ 13, B- 14, B 15, B+ 16, A- 17 and A 18. Four players were designated as A (Thanh Vu, Dung Nguyen, Joel Rivera and Miguel Candon), five were B+ (Vuong Nguyen, Tim Nguyen, Huy Nguyen, Luis Castillo and Nacho Galindo), four were B (Minh Lam, Minh Nguyen, Kiet Ly, and Sergio Salazar), one at C+ (Fernando Corrales) and two at C (Doug Deitel and Alex Salazar.)
In the preliminay rounds Dung Nguyen playing as A was stunned by Doug Deitel (C) 18-9. Deitel's C handicap belied his excellent play and he will move to C+ for future events. Thanh Vu (A) and Deitel moved on from that group to the single elimination 8-man finals. The other A players all performed as expected with Miguel Candon and Joel Rivera also reaching the finals. Others to advance included Vuong Nguyen (B+), Sergio Salazar (B) and Nacho Galindo (B+.)
The eight players were paired off and the final stage began. In the quarter final round Deitel was eliminated by Miguel Candon, Vuong Nguyen bested Minh Nguyen, Thanh Vu prevailed over Sergio Salazar and Joel Rivera topped Nacho Galindo. In handicapped events it is often the best players move to the late stages. It is interesting to note that 3 of the four A players reached the semi-final round here. The lone B+ player to hang in was Vuong who also had a chance for the big prize. But in the semi-final round Vuong fell to Miguel Candon and had to settle for 3rd/4th share. The other semi-final round was the battle of the A's... And what a battle it was. Both Thanh Vu and Joel Rivera had displayed great control over the entire tournament, but it was Thanh who this time came out on top over Joel who shared the 3rd/4th spot.
In the finals Thanh Vu faced Miguel Candon. Miguel, a visitor from Venezuela, had won the Huy Hoang event on July 31 and had demonstrated both consistent play and finesse with his shots each time at the table. Thanh Vu had a history of tournament wins both in Houston and on the national scene, having even made it to the finals in the 2011 USBA National Championship. With two players of this caliber anything could happen. But on this Saturday in August it was Thanh who proved best and took the game and the first place prize, with Miguel this time settling for second.
The final results and prizes:
First - Thanh Vu $300
Second - Miguel Candon $200
3rd/4th Share - Joel Rivera $50
3rd/4th Share -
Vuong Nguyen $50
High run - Dung Nguyen $50 (run of 8 in the prelims against Vu)
Thanks to Tim and Nhut Nguyen owners of Bida Goodays for their hospitality and support of 3-cushion billiards in Houston. Everyone is eagerly looking forward to the next event.