2016 UMB World Cup Guri Korea - Part 1 Thru Qualifications!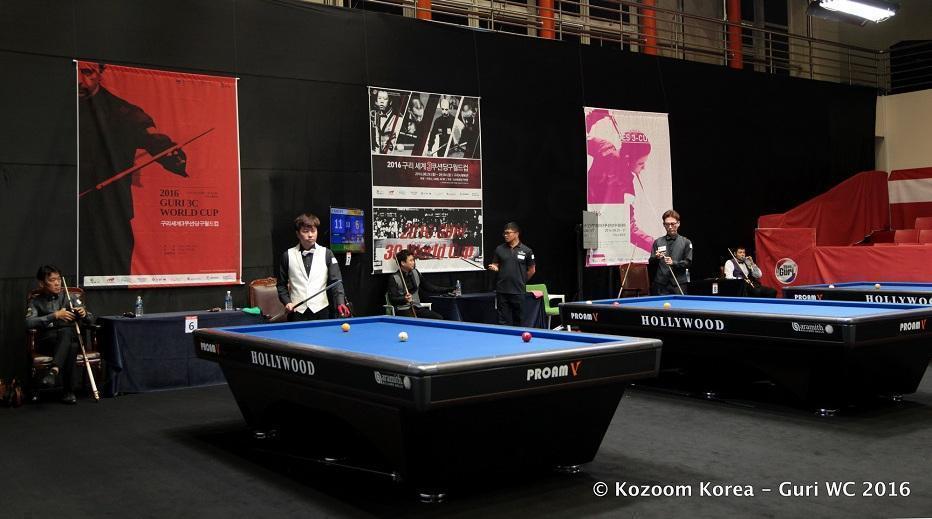 The 2016 UMB World Cup Guri - the fifth World Cup this season - commenced on August 29, 2016 in Guri, Korea. The event will continue through five stages over the week culminating with the single elimination 32-player main tournament and the final match on September 4. The maximum number of players have entered the event - 149 players from 19 countries - all battling for a chance to join the world's elite players with a world cup victory. Below is our coverage of ALL qualification rounds - Part 1. Coverage of the main event and championship match - Part 2 - can be found here. And our featured story about the winner Jeremy Bury can be found here - Bury Wins 2016 Guri World Cup.
The Guri Gymnasium, where the recent World Championship Ladies 3-Cushion was held, became the battle ground for the 2016 UMB World Cup Guri, an event which represents prestige, ranking points and cash for those who can make it through the week-long grueling series of matches. The event began with the first group of 48 players in 16 groups of 3 playing round robin in what is known as the Pre-Pre-Pre-Qualification (PPPQ) stage. (And yes what follows is a PPQ, a PQ and a Q stage!) Virtually any player who can register their entry in time and pay the requisite fee gets a chance to play in this very early stage. Of course many from the home country take advantage of this opportunity. But in a billiard-loving country like Korea, even the club level players can play at 1.2 and higher, making for tough matches even in the earliest rounds. Only 16 players move on to the next stage, which continues in a similar fashion - 16 groups of 3, round robin, 1 from each group moves on. After the PPQ, and the PQ, stages the Qualification stage begins the real test, where many of the world's best first enter the tournament. And finally, the elite players of the world, including the top twelve in the UMB rankings, make their entrance in the Main Tournament, a 32-player single elimination format with 5 wild card entrants and 17 from the qualification stages.
The 149 players included 54 from the organizing country of Korea, 18 from Turkey, 16 from Vietnam and 15 from Japan. Spain sent 8, Colombia 7, the Netherlands & Greece 6, Egypt 5, Belgium 4 and Denmark 2. Finally Ecuador, Finland, France, Germany Italy, Portugal, Sweden and the United States all sent one entrant. The US entrant Pedro Piedrabuena is hoping to improve on his last showing and match his best World Cup where he made it to the final four.
The seeded players based on the latest UMB rankings who will enter in the main draw are: Frédéric Caudron, Torbjörn Blomdahl, Eddy Merckx, Dick Jaspers, Dani Sanchez, Marco Zanetti, Tayfun Tasdemir, Roland Forthomme, Sameh Sidhom, Dong Koong Kang, Jae Ho Cho and Nikos Polychronopoulos. The wild cards for Guri went to: Huberney Catano (CPB), Adnan Yüksel (CEB), Magued Elias (ACC), and Jae Guen Kim & Young Hoon Lee from the organizer Korea.
Day One - Let the Games Begin
No surprise here. Day one matches were dominated by the Koreans, both because of their large field of entrants, but also because of their thousands of billiard clubs that have given rise to tens of thousands of talented players. Best game of the day came from Dae Kwon Shin who outplayed Woo Jin Choi 30-10 in 12 innings with a high run of 12. Incredibly that 2.500 game was in a losing effort as Apostolos Balgiannis of Greece won Group H to move on. Of the sixteen players to advance, 14 were from Korea, along with one from Greece and Marianne Mortensen from Denmark, fresh off her recent appearance in the Women's World Championship only days before.
The first day players to advance (in order of placement): Sung Ok Oh, Hae Chang Jung, Sung Yoon Jung, Myeong Jong Cha, In Su Kang, Apostolos Balogiannis, Seung Kyun Lee, Byung Seob Kim, Kyo Suk Lee, Seong-Gwan Kim, Seong Su Yoon, Su Hyun Cho, Myoung Sin Yoon, Dong Hwan Kim, Marianne Mortensen and Heok Min Kwon. We will keep an eye on the players from this very early stage to see if any can last all thee way to the main event.
Day Two - More Action and Excitement
When we covered the Ladies World Championship we kept track of the players who could manage an average of 1.0 or better. In this event we need to set our sights a bit higher and watch for the 2.0 games. On Day One in the PPPQ stage, only the day leader Dae Kwon Shin managed that feat at 2.500. On Day Two seven players reached that level, with two matching the first day best of 2.500! Sung Yoon Jung had a 2.500 match against Japan's Yusuke Mori only to lose the group to fellow Korean Seung Hun Lee, while Sang Dae Lee won Group D with a grand average of 2.142 including his 2.500 game. A few well-known names entered at this stage and were among the group that won and moved ahead. One who did not move on was Tae Kwan Kim, the younger brother of Haeng Jik Kim and the current world junior champion.
Sixteen players moved on to the next stage - twelve from Korea (of which 5 were from the Day One PPPQ stage!) 2 from Spain and one each from Vietnam and Greece. The second day players to advance to the PQ round (in order of placement): Sang Dae Lee (2.142), former world champion from Greece Filipos Kosidokostas (2.000), Woo Chai Gil, Seung Jin Lee, In Su Kang (from PPPQ!), Jung Wan Lim, Byung Seob Kim (from PPPQ!), Juan David Zapata Garcia (ES), Dong-Ryong Kim, Seung Kyun Lee (from PPPQ!), Duc Anh Chien Nguyen (VN), recent winner of the Spanish Grand Prix David Martinez, Jun Tae Kim, Hyun-Suk Kim, Hyeok Min Kwon (PPPQ!) and Hae Chang Jung (PPPQ!). It appears that with the cancellation of Colombian Robinson Morales the 17th qualifier Apostolos Balogiannis will advance as well.
Day Three - The Field Gets Tougher
With Day Three comes the Turks and Vietnamese, along with a slew of other top players as the field gets closer to facing the Qualification round where even more world class players will appear on Thursday. Ten players managed 2.0 and better games and we even saw our first 3.0! The best effort of the day came from Turkish player Tolghan Kiraz who defeated fellow Turk Ahmet Bayatli 30-16 in 10 innings with a 3.000 average and a high run of 6. But his showing was overshadowed by his defeat in the group by Vietnam's Duc Anh Chien Tran who advanced. High runs of 12 were posted by Korean Hyun-Suk Kim and Javier Palazon of Spain (both advanced.) The lone player from the PPPQ round to continue in the tournament was Apostolos Balogiannis of Greece who also advanced. Several players who entered at the PPQ stage continued as well (see below,)
The sixteen players who moved on to the Qualification Round consisted of five Koreans, three from both Spain and Turkey, two Vietnamese, and one each from Colombia, Greece and Ecuador. The PQ round players on day three who advanced were (in order of placement): Andres Lizarazo (CO, 2.000 average), Sang Dae Lee (KR, from PPQ!), Dinh Nai Ngo (VN), Duc Anh Chien Nguyen (VN, from PPQ), Javier Palazon (ES), Jin Puo Hong (KR), Myung Woo Cho (KR), David Martinez (ES, from PPQ!), Murat Tuzul (TR), Apostolos Balogiannis (GR, the lone PPPQ survivor!), Can Capak (TR), Birol Uymaz (TR), Hyun-Suk Kim (KR, PPQ!), Ruben Legazpi (ES), Luis Aveiga (EC), and Durk Hee Hwang (KR).
Players who were eliminated included Carlos Crespo (ES) in the unlucky 17th spot, Gokhan Salman (TR), Filipos Kosidokostas (GR) and recent repeat Women's World Champion Therese Klompenhouwer.
Day Four - Qualifications Over - The Winners and the Losers
Along with the 16 players from the Pre-Qualification stages, 20 of some of the best 3-cushion billiard players in the world battled in the Qualification stage - the last stage before the main knock-out portion begins. The 36 players played in 12 groups of three, round robin, with the top twelve plus next 3 best second place finishers moving to the main tournament. Here is the breakdown of the matches, the winner... and the losers. (Those who move on in bold.)
Group A - Javier Palazon (ES) had to equalize in his match against Duc Anh Chien Nguyen (VN) to tie. His win over Riad Nady in fewer innings clinched his position. Palazon is in. Nguyen places among the top three seconds and also is in.
Group B - Murat Naci Coklu (TR) blisters Jin Pyo Hong 40-13 in 14 innings (2.857 with high run of 12) then drops a tough one to Dinh Nai Ngo (VN) 40-36 in 17 innings but still makes it through as 3rd best second place. Ngo wins the group.
Group C - Revelation 18-year old Myung Woo Cho in an all Korean group beats PPQ leader Sang Dae Lee and champion Haeng Jik Kim to win the group and joyously advance.
Group D - Vietnam's Quyet Chien Tran wins both games over Andres Lizarazo (CO) and David Martinez (ES) posting a high run of 13 to advance.
Group E - The Nguyen Quoc Nguyen (VN) gives way to the Turk Murat Tuzul.

Xuan Cuong Ma

equalizing in his match with Tuzul is virtually tied but placed second by two caroms lower in the 1st HR category. Yet Ma is top second finisher among all and so he too moves on with Tuzul.
Group F - Apostolos Balogiannis (GR) from the PPPQ stage (!!!) is finally out. Jung Han Heo (KR) leads the group with two wins in the process eliminating Minh Cam Ma (VN).
Group G - Hyung Kon Kim (KR) and Can Capak (TR) tie. USA's Pedro Piedrabuena wins his first match over Capak with a 2.222 average. In the Kim-Piedrabuena game Pedro plays below his level losing 40-28 and is eliminated. Kim moves on.
Group H - Fresh off his Verhoeven Open win Jeremy Bury (FR) averages 2.352 and 2.857 in winning his two games to easily make the main event. His victims Jose Juan Garcia (CO) and Birol Uymaz (TR) are out.
Group I - Anh Vu Duong (VN) beats Hyun-Suk Kim (VN) as does Lufti Cenet (TR) who puts in the best performance of the day in 13 inning (3.076 average) and posts the high run of 13. Cenet then beats Vu to take the group.
Group J - Ruben Legazpi (ES) wins only one game. As does Chi Yeon Cho (KR) and also Hyung Bum Hwang (KR). The tie breaker is based on average... and Legazpi was more consistent so he gets the nod. All three had runs over 10. Tough group,
Group K - Another brutal group. Former world champion Sung-Won Choi (KR) wins against Luis Aveiga (EC). Then Aveiga beats another former world champion Semih Sayginer (TR). In the third game it's Sayginer over Choi. One game each for all three, but Choi advances with the better average.
Group L - In the final group once again the evenly matched players all win one game! First Durk Hee Hwang beats fellow Korean Choong-Bok Lee. Then Lee defeats Belgian Eddie Leppens. When Leppens ends up in a 38 inning battle to take Hwang by one carom it is too late. Lee wins the group with the better average.
Click here to see the complete cross-tables for the final qualification stage.
Click here to see the final order of finish and the playes advancing to the main event.
Our coverage will continues in Part 2 with the 32-man knock-out style main event - CLICK HERE for round-by-round action! Our feature story about the winner is here - Congratulations Jeremy Bury World Cup Guri Champion. Remember - videos are available for re-play on Kozoom for Premium Pass Members. Many thanks to our contributing sources: Union Mondiale de Billard for the playes list, charts and final rankings. and Kozoom for their background stories, pictures and videos.