Myung-woo Cho Wins the 5th Edition of the LG U+ Cup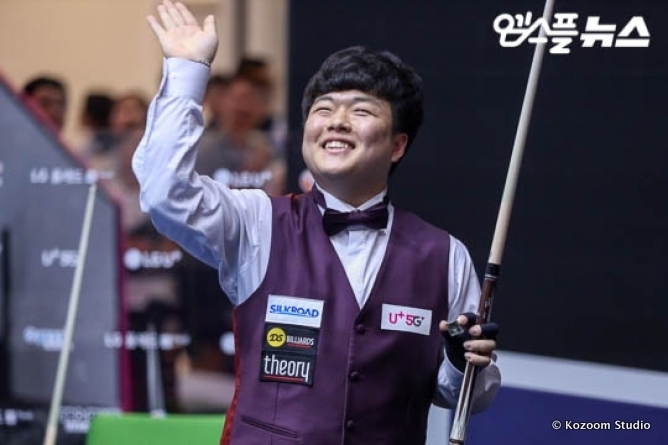 Myung-woo Cho, the 21-year old former Junior world champion from Korea has won the fifth installment of the LG U+ Cup held September 5-7, 2019 in a shopping mall in Hanam. That last bit is no joke, as the event sponsored by LG really gets right out to the people with spectators strolling by as they shop! Along the way Cho demonstrated his dominance over some of the world's top players and clearly established himself as a future star to reckon with on the International 3-cushion billiards circuit.
Sixteen of the world's best players met in Hanam, Korea to compete for an impressive total prize fund of more than $250,000. The invited players included: Jae-Ho Cho, Sung-Won Choi, Quyet Chien Tran, Wan Young Choi, Eddy Merckx, Choong Bok Lee, Dani Sánchez, Semih Sayginer, Jung-Han Heo, Bong Chul Kim, Dick Jaspers, Tayfun Tasdemir, HaengJik Kim, Marco Zanetti, Torbjörn Blomdahl and the winner Myung-Woo Cho. The format: All matches to 40 points, prelims in four groups of four in round robin, the best two advanced to the quarterfinals for an 8-man knockout final phase.
With all that talent and all that money at stake, young Cho put on an incredible performance to secure the victory. Here are some of the highlights of his great accomplishment:
Undefeated throughout the event
All games won in less than 20 innings
Victories against four former world champions (Zanetti, Blomdahl, Merckx and Sayginer)
Here were Cho's match by match results:
Qualification Round:
vs Haeng-Jik Kim 40-31 in 16 (2.500)
vs Marco Zanetti 40-16 in 18 (2.222)
vs Torbjorn Blomdahl 40-18 in 16 (2.500)
Knock-out Finals:
vs Eddy Merckx 40-26 in 19 (2.105)
vs Tayfun Tasdemir 40-25 in 17 (2.352)
vs Semih Sayginer 40-16 in 17 (2.352)
Best game honors went to Semih Sayginer in his match against Jae-ho Cho in the semi--finals with a 40-10 win in 10 innings (4.000) In that match he ran a majestic 19, best in the tournament. Sayginer clearly was the best of the rest to reach the finals, but had a sub-par performance while Cho remained strong and consistent to reach the well-deserved spot on the top of the podium. The final four took home substantial rewards for their efforts: Myung-woo Cho $72,000, Semih Sayginer $36,000, Jae Ho Cho and Tayfun Tasdemir $18,000.
Years ago we saw the great potential that Myung-woo Cho exhibited when we first published our article Myung-Woo Cho: Another Great Young Korean To Watch back in December 2016. That was just after he captured the Junior world championship at age 18. Now at age 21 he joins former LG U+ winners Quyet-Chien Tran (2018), Marco Zanetti (2017), Choong-Bok Lee (2016) and Dong-Koong Kang (2015) as LG U+ Cup Champion.
Congratulations to a player we know we will see much more of in the years to come -- winner of the 2019 LG U+ Cup -- Myung-woo Cho.
Thanks to Kozoom and Cuesco for pictures, statistics and material used in preparing this report.